Success Unites - Bright Steel and Sections!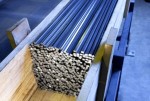 EZM Edelstahlzieherei Mark manufactures drawn, ground, ground and polished as well as peeled bright steel in variety unalloyed and alloyed carbon steel grades (EZM Driveline).
In addition EZM is also manufacturer of standard DIN sections, such as square, hexagonal, octagonal and special profiles to sections that meet our customers' toughest demands (EZM Profiline).
For applications in such sensitive areas as medical equipment EZM produces drawn and ground round stock as well as sections (EZM Chiruline) in material ranging from stainless steel (EZM Chirusteel) to titanium, (EZM Chirutan). The well-known product lines are successfully established in the market and stand for traditional well-proven know-how.
Quickfinder:
Cold-drawn bright steel · ground bright steel· ground and peeled bright steel · alloyed special steel·
anti-friction bearing steel · ball bearing steel · cold-drawn sections · Titanium · bright steel · alloyed high-grade structural steel· EZM Driveline · EZM Profiline